TITUM™ Nonstick System
Every chef will concur that you need a good piece (or three) of nonstick at your disposal. But until now, nonstick was also disposable. ProBond with TITUM™ Nonstick is not only the most durable nonstick in the world compared to standard nonstick, its diamond and titanium reinforced cooking surface delivers chef-grade searing and browning. TITUM™ isn't just convenient. It's indispensable.
Shop Now
TITUM™ is more than just a nonstick cooking surface. The 5-layer TITUM™ system ensures resilience and durability for countless meals to come.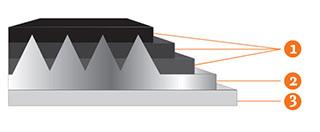 Three-Layer nonstick reinforced with diamond particles
TITUM™ plasma primer provides strength and durability
Stainless steeel body with sandblasted surface treatment to guarantee increased grip for nonstick coating
Why TITUM™ ?
22x More Durable
Superior Searing
Innovated for Chefs
ProBond Performance
TITUMTM durability goes beyond the cooking surface. The 5-layer system includes 3 layers of PFOA-free nonstick, which is reinforced with diamond particles and anchored to the pan with titanium plasma technology. TITUMTM is 20x more resilient than standard nonstick.
TITUM's textured nonstick surface and high heat tolerance delivers exceptional searing, browning and deglazing performance.
Hestan created TITUMTM in response to chefs' demands for extreme durability coupled with exceptional performance. In addition to TITUM's culinary-grade nonstick, ProBond skillet design includes chef-inspired features like sealed and flared rims, flush rivets, ergonomic French-style handle and greater cooking surface area. TITUMTM is built to last in professional kitchens. But it works just as hard at home.
Triple bonded stainless steel with exclusive ProCoreTM aluminum delivers 35% greater heat conductivity than other aluminum-clad cookware for quick and even heating. Every TITUMTM ProBond skillet is handcrafted in Italy to the highest standards of fit and finish.
Tech Features
Abrasion Resistant
TITUM's PFOA-free surface is reinforced with 5-layer construction to make the skillet virtually impervious to scrapes and scratches.
Better Browning
Diamond and titanium particles create a textured cooking surface, which captures fats and oils for exceptional browning and searing.
Rims & Strong Base
Forged steel guarantees a thicker base for even heat distribution, with thick, sealed rims allow for increased durability while 100% dishwasher safe.
Handle
French-inspired handle for greater comfort and total control.
Rivets
Flush NanoBond™ rivets prevent food buildup and allow for easy cleaning.
Heat Conduction & Cooking Area
Hestan's ProCore™ provides 35% greater heat conductivity and 20% greater cooking surface area.