Handcrafted in Italy
THOMAS KELLER INSIGNIA Commercial Clad Stainless
Informed and inspired by Chef Thomas Keller's 27 years helming America's most acclaimed restaurants, Insignia sets a new standard for professional culinary performance. From sauté pans to sauciers, Chef Keller designed and curated the Insignia collection in service to the food. The sizes, shapes and every detail are purpose-built to deliver exceptional utility, beautiful durability and responsive performance so that you can leave your signature with each dish.
Shop Thomas Keller Insignia

"This is cookware designed from a chef's point of view. Each tool must help us cook better. That's why I worked with Hestan to design the Insignia Collection. We not only wanted to create beautiful cookware, but exceptionally durable and functional cookware. I am extremely proud of this collection, and I believe you will be proud of the results it brings you in your own kitchen."

-Chef Thomas Keller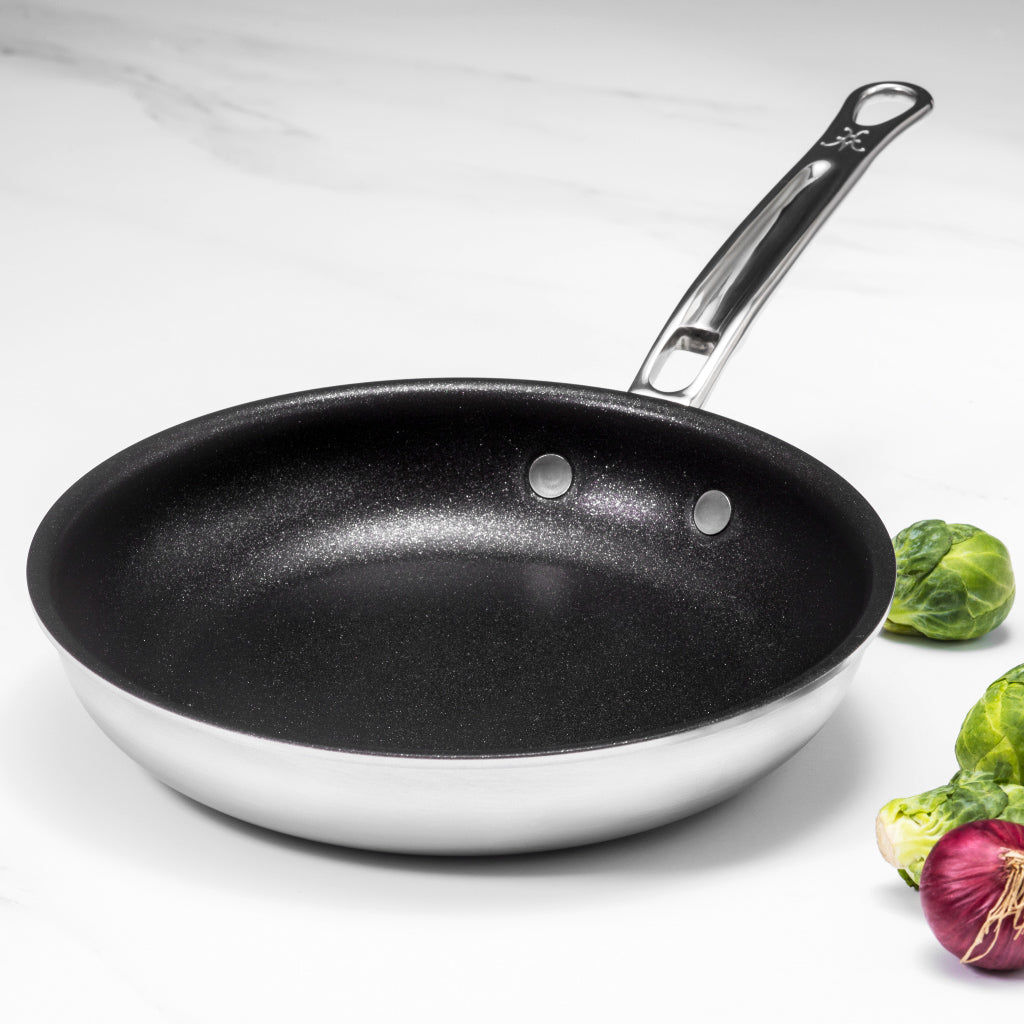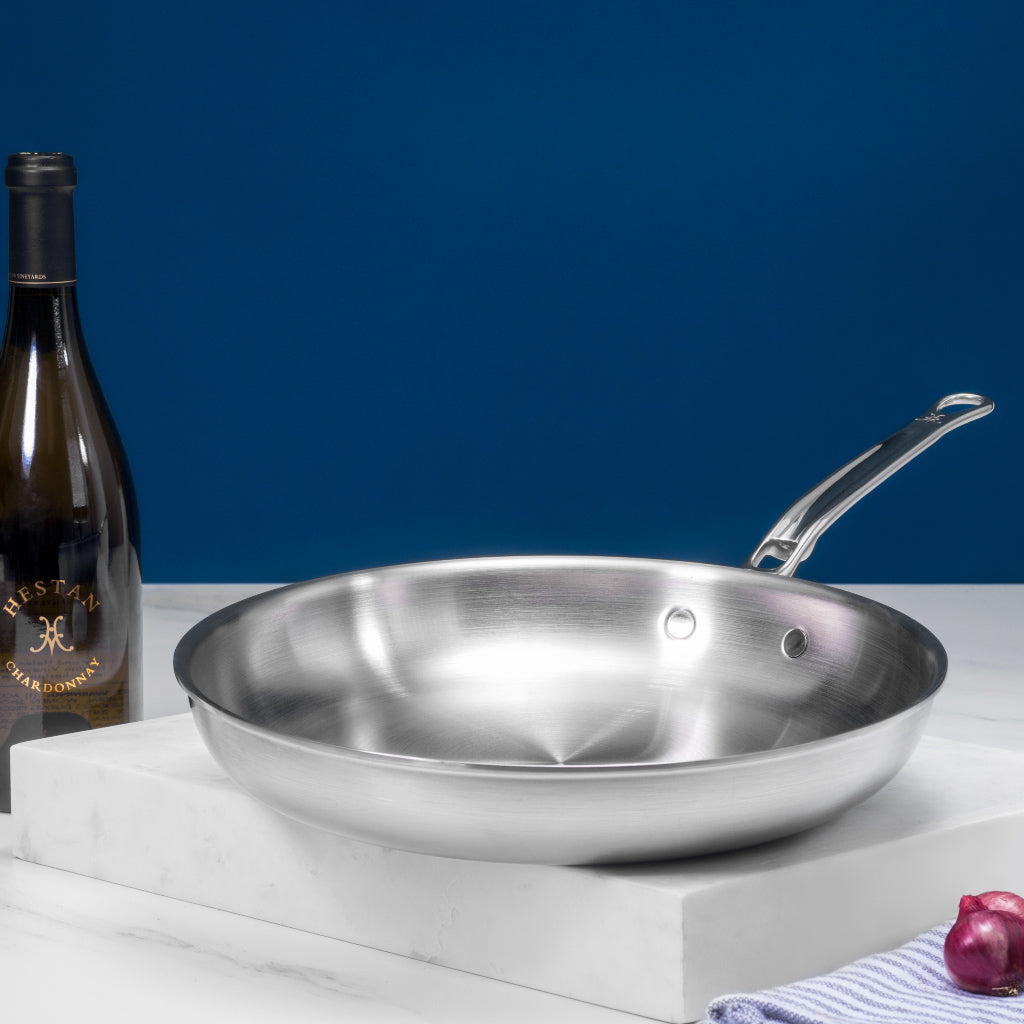 Designed for you
The Insignia collection provides the culinary versatility you need to prepare any dish – from delicate sauces to seared steaks to family-style risotto. Exceptional materials elevate performance with greater heat conduction and balanced temperature. Impeccable details like sealed rims, flush rivets and no-gap handle ensure easy cleanability and durability for years of beautiful service. Nesting storage and universal lids reduce clutter in your cabinets when you're not cooking. In the kitchen, beauty lies in utility. And Insignia delivers beautiful performance.
Chef-designed and kitchen-proven, Thomas Keller's Insignia sets a new standard for professional culinary performance. Every detail has been dialed in from a chef's point of view. Chef Keller's bespoke handle increases comfort and control with a rounded belly and leverage optimized for movement on the line. Larger diameters deliver both greater contact with commercial burners as well as increased cooking surface area. Of course, cleanability was a priority. Sealed rims, flush rivets and the unique no-gap handle eliminate food residue for easy cleaning shift after shift. Above all, Insignia delivers exquisite utility in service to your food so that you can leave your signature with each dish.
Insignia Innovation
Unrivaled Performance
Brilliantly Clean
Sustainability
Optimized Sizing
Insignia's exceptional materials and design combine for unparalleled function. The pure aluminum ProCore™ delivers 35% greater heat conduction than typical stainless. The shape of Insignia's sidewalls creates 20% more cooking surface area in our sauté pans – which allows for better-balanced heat transfer and faster heat recovery as you add large ingredients.
Insignia's high-grade stainless steel cleans easily while thoughtful design details prevent food buildup to begin with. The innovative seamless handle eliminates one of the hardest-to-clean crevices. Likewise, flush rivets repel residue on the interior. Steel-encased sealed rims will never split into sharp edges, a very literal pain point on most cookware. Every piece of Insignia is metal-utensil safe and dishwasher safe – even our TITUM™ nonstick.
Sustainability and functionality were priorities for Chef Keller. So each piece is designed to deliver the utmost versatility while simultaneously eliminating the waste over-specialized and seldom-used cookware. Universal lids reduce both manufacturing materials and kitchen clutter.
Cooking capacity was increased by going wider, not taller – which may be less cost-effective, but is much more heat-effective. This creates more contact with the heat source for better conduction as well as greater cooking surface are within the pan for balanced heat distribution and faster heat recovery.
Beauty, Versatility & Utility
Carefully-Curated Sets
Insignia's 7-pc and 11-pc sets include everything you need to
elevate your culinary experience.
Bespoke Handle
Chef Keller's handle design rests comfortably in hand, minimizes heat transfer and offers a more practical
angle for lifting.
Induction Capable
Insignia's large-diameter bases deliver incredible performance and conduction on any heat source – gas, electric or induction.
TITUM Non-Stick
The most durable nonstick surface in the world, TITUM™ Nonstick, is PFOA-free and reinforced with diamonds and titanium. Available on sauté pans.
Greater Performance
Insignia delivers 35% greater heat conductivity than other aluminum clad cookware thanks to durable tri-ply construction, combining high-grade stainless steel with exclusive ProCore™ aluminum. The design of our sauté pans creates 20% more cooking surface area.
Flared Rims
Flared rims allow for drip-free pouring of sauces and reductions.